outside the glass:
the black heart procession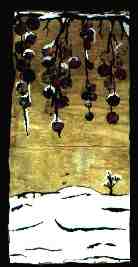 the black heart procession is:
pall jenkins: vocals, saw, guitar, moog, ambience, organ, and various others
tobias nathaniel: piano, organ, accordion, clavinet, toy piano, guitar
jason crane: trumpet, tuba, ambience
mario rubalcaba: drums, percussion, ambience
dimetri denuski: live keyboards
joe plummer: live percussion
and various other collaborators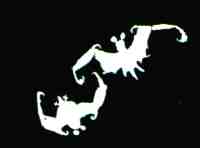 general history:
In 1997, two members of the San Diego band Three Mile Pilot felt themselves being drawn into a newer, darker, form of music: the talents of singer Pall Jenkins and keyboardist Tobias Nathaniel had evolved into a more morose, somewhat macabre sound. Eager to experiment with this newfound passion, the two took a hiatus from work involving Three Mile Pilot to concentrate on their newest brainchild, The Black Heart Procession. Convincing drummer Mario Rubalcaba (of the band Clikatat Ikatowi) and trumpeter Jason Crane (of the bands Rocket From The Crypt, Stacatto Reads, and A Day Called Zero) to participate in this endeavor, they set out to darken the landscape of modern music.
In 1998 they released their first full album on the cargo/headhunter label, officially titled with the number "1" rather than with words. Currently out of print, this album allowed Tobias and Pall to realize the emotional outlet this type of music gave to them. It served as a conduit for the two to transfer their anguish and solemnity to others who appreciated and understood it.
They followed this release with a more elaborate, pensive album on the Touch and Go label in 1999. Appropriately titled "2", this album proved to critics that The Black Heart Procession was more than a side project: it was a new band altogether, one that had returned to the music scene with even more musical elaboration and cohesion. Almost simultaneously, they released an untitled 3-song recording featuring songs that greatly appealed to their fans' desire for even more of their pseudo-gothic masterpieces.
After attracting several fans to their music via tours and shows at larger venues, The Black Heart Procession set out to weave yet another of their impressive works. By releasing another 3-song recording entitled "fish the holes on frozen lakes" on Galaxia records' label in 2000, The Black Heart Procession had laid the path for a new album. Released on Touch and Go Records, their most recent album "3" has caused them to amass a rather large underground following. An intercontinental tour with indie rock legends Modest Mouse attracted more fans to the group than ever before.
Now, with three successful albums to claim, Pall and Tobias hope to reinitiate their work with Three Mile Pilot while continuing their endeavors with The Black Heart Procession. Undoubtedly, their music will continue to be recognized by those who understand it for several years to come.

description:
The Black Heart Procession's distinct musical sound brings to mind images of barren snow-covered fields, abandoned farmhouses that have fallen to waste, and swarms of intricate black bats circling overhead as the pale moon slowly emerges from the cloak of night. Though the songs rely mostly on Tobias' keyboarding and Pall's vocals, several musical elements are scattered throughout the various compositions. Themes of lost love and solitude are rampant throughout Pall's lyrics, expressing his innermost fears and regrets. The low moaning of his saw closely resembles his own floating vocalizations, making it seem as though both voices are originating from one man. Tobias' piano compositions are complex yet flawless, giving the listener a sense of awe and insignificance. Jason's muted trumpet pierces the atmosphere like the cry of a distant crow, at times increasing from a nearly inaudible whisper to a piercing scream and back. On occasion, Mario offers the foreboding pounding of low percussion to enhance the structure of the songs. Overall, The Black Heart Procession's sound is intricately pieced together to form an audible atmosphere of forlorn solitude and anguish.